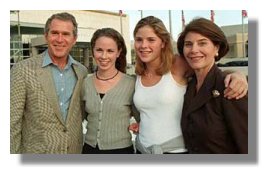 They Couldn't Get Dubya, So Now They're After Jenna
They couldn't come up with a witness to President George W. Bush imagined cocaine use in time to stop his election. So now, at least some in the media seem to be taking it out on first daughter Jenna Bush.

"Should Jenna Bush, the 19-year-old daughter of the president, be in jail? Or at least be arrested?," wonders Jim Pinkerton, Newsday's usually conservative columnist, who saved this bit of poison for Salon.com on Friday.

"That's the conclusion to be drawn," he said "from a recent report in the National Enquirer that asserts she smokes marijuana."

Actually, the Enquirer report on Jenna and her "secret wild life" concludes nothing of the sort -- as satisfying as the thought of jailing Bush's daughter might be to her father's enemies in the press.

And in fact, Pinkerton makes the sensational suggestion only on his way to arguing that the nation's drug laws disproportionately affect what he calls "the non-white and the non-protected."

But the real problem here is that a serious writer would drag the name of the first daughter through the mud based on the Enquirer's anonymously sourced allegations.

"The tabloid quotes two unidentified fellow students," Pinkerton acknowledges, "one of whom says, 'Jenna came over one night and we all did some doobies together. I wouldn't say she's a major pothead but she likes to toke up when it's around.'"

But he declined to include another quote in his report, perhaps because it undermined the image of Jenna as pothead. "Drug use is definitely not a part of Jenna's normal routine," a second anonymous source told the tabloid.

The national media did the same thing to Jenna's father in late 1999, when a Bush biographer sourced three witnesses, anonymously of course, who he said knew about a phantom 1973 Bush cocaine bust.

When the author refused to name his sources as the story heated up, then turned out to be an ex-con who once hired somebody to kill his business partner, the mainstream press wound up with egg all over its face.

After just about every news venue in the nation had reported the charge that the Republican presidential candidate had tried to cover-up a 27-year-old drug arrest, the media quietly retreated.

The Enquirer's report on Jenna's so-called wild partying followed by a week heavy mainstream coverage of an incident where the Secret Service accompanied her to retrieve a drunken friend from jail after both had attended a campus beer bash.

Again, not a single on-the-record source suggested that Bush's daughter had done anything wrong. But the newspapers the next day were chock full of questions about "underage" Jenna in close proximity to alcohol -- and whether she'd misused the Secret Service.

This time, reporters ought to wait till at least someone is willing to be quoted by name before they trash the reputation of the first daughter any further. (The lack of named sources is ostensibly why the establishment press has declined to pick up tabloid reports that Denise Rich had an affair with Bill Clinton -- or, for that matter, that Hillary is gay.)

And even if such sources do eventually emerge for a Jenna Bush tell-all, it's time conservatives demanded equal treatment.

Why, for instance, did the press decline to cover on-the-record allegations from multiple sources who say they saw then-Gov. Clinton -- chief law enforcement officer in the state Arkansas -- using cocaine.

NewsMax.com readers are already familiar with the accounts of Sharlene Wilson and Patti-Anne Smith, women caught up in the Arkansas drug scene who report separate instances of Clinton's coke use. (See: Pardongate Flashback: Lasater Party Girl Speaks Out)

And there are others. Some even claim that Clinton was once admitted to a Little Rock hospital for a drug overdose.

Media attention? Zip!-- including the supermarket tabloids.

Before another word is reported about Jenna Bush's private life, the establishment press needs to explain why it took a pass on such explosive and well corroborated reports about a sitting president of the United States.
Source: Newsmax.com
What Did People say about covering Chelsea?
Bill and Hillary Clinton made it clear from the start that Chelsea was off limits to the press.

"My concern is just giving her the chance to have her own life, to be able to grow up as normally as possible if she's living in the White House," said Hillary Clinton before the election. "And that's what I'm going to be focused on."

"It's the request of the president and Mrs. Clinton that Chelsea be allowed to have as normal a childhood as possible while living at the White House," said Neel Lattimore, the first lady's spokesman.

"Leave the poor girl alone. If she wants to talk to the press, she will. Otherwise respect the wishes of her family."

"No, because she did not ask to be in such a position. I really feel for her. It is bad enough going through a situation like this. And on top of that have someone talk about what they hear and publish it for money, I think it is immoral."

"It's about as close to a 'valid journalistic subject' as anything People has ever put out."

Chelsea is a part of president Clinton's private/family life and in no way should she be subject to the torture of paparazzi -- look at poor lady Diana -- I believe our screen actors, athletes and all of us should do the job we are hired to do and when we go home...LEAVE US ALONE! Land of the free? Only for the anonymous."

"Don't journalists have anything better to do? Shouldn't they be misrepresenting American religious diversity or the redefinition of political philosophies or something?"

"I feel the media should make an exception to writing about the president's children because it just isn't fair. Chelsea didn't choose to be the 'first daughter' of our country. Let her live her life free of the scrutiny of the press."

"As a minor, she should be afforded the protection of more privacy than an adult age 21 or over."

"Being a student at Stanford, and having seen Chelsea around campus, I find it difficult to imagine leading the kind of life that she lives (i.e., accompanied by protective guards everywhere she goes, living under the constant scrutiny of Americans."

"Leave the girl alone. She has enough problems dealing with that father of hers in private, let alone in the public eye. Since the press is not interviewing her directly, everything is a bunch of hearsay anyway. She is entitled to her privacy."

"Chelsea should be left alone. Journalists should instead address their efforts toward any of the several serious problems that face American society: How about the significant poverty levels among children? How about the way the 'Drug Wars' do nothing to stop drug use but instead do major damage to people who are peripheral to the drug problem? How about the do-nothingness of Congress? How about even reporting some good news -- say, things like how community-organizing groups are springing up across the country and solving community problems? Jeez, get a grip, guys."

"It's tabloid journalism to me. And I try to avoid that like a plague."
Al Gore III's Speeding Ignored; Networks Pounced on Citations to Bush Daughters
The network fascination with the initial investigation of Jenna Bush for using another persons ID to buy an alcoholic drink at an Austin restaurant Tuesday night contrasts with how the networks last summer ignored the speeding and reckless driving citations issued to Albert Gore III for going 97 mph in a 55 mph zone. While Gore was 17 at the time of his offense on an August weekend before the Democratic convention, and so still a minor, and Bushs daughters are now 19, the media-applied standard has been that offspring are only off-limits until they make "the police blotter."

Wednesday night on MSNBCs The News with Brian Williams, for instance, MRC analyst Ken Shepherd noted that Newsweeks Jonathan Alter explained: "I actually think it's a fairly simple issue. There is a zone of privacy which should be respected as it was for Chelsea Clinton and should be for the Bush twins as, as their father suggested, when it does not involve a brush with the law. But the minute somebody in your family has any kind of connection to law enforcement, not just now but forever in American history. Franklin Roosevelt's children, if they had had a brush with the law, you can bet that it would have been in the newspapers. I think any reasonable person can say that's a fair dividing line."

The Gore and Bush offenses are also at a similar level of seriousness. As USA Today reporter Tom Kenworthy noted in a May 31 story, obtaining alcohol at an underage "is typically treated as a minor offense similar to a ticket for a traffic violation."

On Thursday, Jenna Bush was cited by Austin police for using a false ID to obtain alcohol and sister Barbara was cited for consuming an alcoholic drink.

Unlike the case with Al Gores son, in which the North Carolina state police officer had no idea who was driving the speeding car before he pulled it over, the Bush daughters were caught because restaurant employees recognized Jenna -- which means she was pretty foolish to think she wouldnt be recognized but also that she was treated differently than the average 19-year-old in a bar in Austin. Pete Slover reported in the May 31 Dallas Morning News:

"According to a police statement and interviews, officers were called after a manager at Chuy's restaurant in south Austin dialed 911 to notify police that Jenna Bush, who was with her twin sister Barbara, offered another person's ID to try to buy a drink. She was not served, police said.

"In this instance, I think they (restaurant workers) recognized who they (the Bushes) were, which may have prompted the call, said Capt. David Ball of the Texas Alcoholic Beverage Commission, which was consulting with Austin police."

Last summer the Washington Post and New York Times held themselves to one edited AP dispatch on the incident a week after it occurred. The Washington Post reported in full on page A6 on Sunday, August 20, three days after the Democratic convention:

Gore Son Faces Charges in N.C. Speeding Case

CURRITUCK, N.C., Aug. 19: Vice President Gore's son has a court date in North Carolina next month to face charges of speeding and reckless driving last weekend.

Albert Gore III, 17, was arrested and charged Aug. 12 with driving 97 mph in a 55 mph zone and reckless driving, said 1st Sgt. A.C. Joyner of the North Carolina Highway Patrol. Joyner said Gore was cooperative during the arrest.

He was driving on a state highway in a rural, sparsely populated area along the Outer Banks just south of Norfolk, authorities said.

Camille Johnston, a spokeswoman for Tipper Gore, said today that the teenager was alone at the time and was heading home to Washington after a family vacation.

The Gore family vacationed on Figure Eight Island farther south in early August.

"The Gores are dealing with this as a family matter," Johnston said.

A court hearing was scheduled for Sept. 13. Possible punishment would be a fine and loss of driving privileges in North Carolina.

END reprint

Demonstrating the lack of media interest in the case, I could find nothing in Nexis about the disposition of it during the September 13 hearing or since.

On Thursday the New York Times remained consistent and confined the Bush story to an wire dispatch at the bottom of an inside page. The Washington Post, however, increased its attention on the Bush daughters with a story on the front page of the "Style" section on Thursday and another inside today, plus a "Style" front page piece today by media reporter Howard Kurtz about the medias focus on the incident.

Last year the broadcast networks and prime time newscasts on the cable networks all ignored the case involving the son of the sitting Vice President who was running for President, as later noted in a National Review Online piece by Tim Graham, then with the MRC: http://www.mediaresearch.org/oped/news/nro20001105.html

This year, on Wednesday night all the cable networks pounced on the story as both ABCs World News Tonight and the NBC Nightly News ran brief items. (See the May 31 CyberAlert for transcripts of the ABC and NBC items.) Thursday night ABC ran a brief update while NBC made the event its hook for an "In Depth" segment on the behavior of presidential sons and daughters. (See below for details.)

The CBS Evening News has remained consistent, with the Ed Bradley-anchored show not touching the Bush daughters story either Wednesday or Thursday night. Thursday morning, MRC analyst Brian Boyd noted, CBSs The Early Show held itself to a couple of briefs during news updates.

But the ABC and NBC morning shows devoted entire segments to the Bush daughters on Thursday morning with Today opening the May 31 broadcast with their troubles. At he top of a Good Morning America segment on what happened at the bar, ABCs Elizabeth Vargas ruminated: "Jenna Bush's story is moving beyond the tabloids into mainstream media. The question this morning is, is this really anyone's business?"

Details about Thursday May 31 evening and morning coverage:

-- ABCs World News Tonight. Peter Jennings read this short item: "In Texas today the Austin police issued citations to both of President Bushs teenage daughters. Barbara is charged with alcohol possession and Jenna is charged with using someone elses ID to order alcohol."

-- NBC Nightly News used the event for an "In Depth" segment on life in White House spotlight. Andrea Mitchell began, as transcribed by MRC analyst Brad Wilmouth:
"Nineteen-year-old Jenna Bush, along with her twin sister Barbara, exposed to the full tabloid treatment for allegedly using a fake ID to order Margaritas at this Tex Mex restaurant Tuesday night. This after Jenna pleaded no contest only two weeks ago to possessing alcohol as a minor. Paid court costs, did community service, attended alcohol awareness classes...A second offense for Jenna could mean a suspended drivers license, a $500 fine, and more community service and alcohol awareness classesand more embarrassment. [clip from Saturday Night Live] A stern father called Jenna, but the White House insisted thats a private matter and suggested the Secret Service has a more important job than keeping presidential kids out of trouble....The President, as a candidate, pleaded for his daughters privacy."
George W. Bush in May of 2000: "Im asking you again to just be respectful of these two little girls."
Mitchell: "In fact, Secret Service agents say they deliberately hang back, try to let presidential teenagers be normal adolescents, even if it means illegal drinking. What about other first children? Susan Ford Bales, only 17, a high school senior when her father unexpectedly became President, says her agents did not, quote, get in her face....

-- ABCs Good Morning America. Elizabeth Vargas set up the May 31 segment, as observed by MRC analyst Jessica Anderson: "For the second time in two months, President and Mrs. Bush are dealing with a problem many parents know all too well: a teenager, their daughter, in a brush with the law involving alcohol. With this second incident, Jenna Bush's story is moving beyond the tabloids into mainstream media. The question this morning is, is this really anyone's business?"

Vargas added: "The White House had no comment, calling it a family matter. but Jenna's new brush with the law raises new questions: Is it an alcohol problem? Is it teenage rebellion? More importantly, is it anybody's business?...Wayne, I'd like to start with you, if I may. You say that Jenna's brushes with the law is the public's business. Why?"

Wayne Slater, Dallas Morning News: "Absolutely, it is. Pretty much during the course of the governor's tenure in office as the governor, we paid little attention to the daughters. But when you have the daughter of the President of the United States in an incident in which the police are involved, that's news. That's not a federal offense, it's not the end of the world, and people who read this or watch this on television are smart and understand that it's the kind of thing that many normal teenagers do. But that doesn't mean it's not news -- it is news."

Vargas: "But you just said, it's the kind of thing that many normal teenagers do. I'm sure she's not the only college student in America drinking underage. She is, however, the only college student getting on the front pages of newspapers for doing so. Shouldn't we have compassion for a young woman who, after all, didn't elect to be in this position herself?"

Slater: "Not only did she not elect to be in this position, both she and her sister asked their father not to run for President early on. They didn't want to be in this kind of position, in the spotlight, but they are. They're the daughters of the President of the United States, and as long as the episodes are treated fairly and in some kind of context -- look, this is not the end of the world, but it is something that people talk about, that people ought to know about and the mainstream media ought to deal with it and deal with it accurately, fairly and, frankly, not make that big a deal about it."

Vargas turned to former Hillary Clinton aide Lisa Caputo: "The President has made it clear that he expects the press to respect the privacy of his daughters. Should that include incidents like this where it is involving breaking the law?"

Vargas soon raised George W. Bushs history: "However, it has become a bit of an issue only because President Bush himself has admitted that he had a drinking problem as a man, quit drinking when he was 40, was in fact arrested for driving under the influence."

That was even too much of a stretch for Caputo: "I think that's an apples to orange issue. What I would say here is that, you know, First Kids, the First Family, they didn't elect to be in office. They're not elected officials and really the question here is, is where do you draw the line in terms of who is a public figure and who isn't? This is not the President of the United States violating the law, allegedly. These are his kids and I just think that there should be a zone of privacy. They are under 21. They're in college..."

-- NBCs Today. Matt Lauer opened the broadcast: "Good morning. Double trouble in Texas. President Bush's 19 year old daughter, Jenna, brought her twin sister Barbara along when she allegedly tried to buy a drink at a local restaurant. Her second brush with the law. She's under investigation for underage drinking today, Thursday May 31st, 2001."
Katie Couric, MRC analyst Geoffrey Dickens noticed, chimed in: "Geesh. You can only imagine the phone conversations going on between the White House and the two Bush daughters. And this, what, just two weeks ago Jenna pleaded no contest to other charges about underage drinking."
Lauer: "That's right and the judge who presided in that case ordered her to undergo alcohol counseling and perform some community service. Now she could be facing more of the same. We're gonna get details on what happened in Austin in just a moment. We'll find out how students at Jenna's school, the University of Texas, feel about all this."

Today made the case its "Close Up" segment, starting with a full report from reporter Jim Cummins who recalled: "There was another incident involving Jenna back in February. The sheriff in Ft. Worth, Texas claimed Secret Service agents in a black Chevy Suburban came to the county jail late one night to pick up this man, 18 year old William Bridges, who was under arrest for public intoxication. Deputies say Bridges claimed to be Jenna's boyfriend and they were told she was in the black Suburban."

Next, Matt Lauer talked with Marshall Maher, Editor of The Daily Texan at the University of Texas in Austin. Lauers questions, which included raising the possibility that Jenna had been "singled out":
-- "Your newspaper has decided not to give any special coverage to these incidents, why?"
-- "So in this situation with incidents involving underage drinking I guess you would not cover underage drinking were it happening with other students."
-- "The drinking age in Texas is 21, Marshall, is that correct?"
-- "So, so are there sweeps done in the local bars? I know it's not uncommon to find students who are under the age of 21 in the local bars in Austin. Are there sweeps conducted in those bars to try to prevent that?"
-- "Yeah in this case I understand the manager of the bar actually called the police. Do you think in some ways the President's daughter was singled out?"
-- "Perhaps a tough question for you to answer, answer Marshall. But she has Secret Service protection there. And yet where was the Secret Service during these two incidents?"

But Today wasnt done as it used the Bush daughters as a hook for one more segment. Katie Couric set it up: "The most recent investigation of President Bush's 19 year-old daughter Jenna for allegedly trying to buy alcohol illegally has brought even more attention to underage drinking. That combined with the results of University of Michigan survey that has found in the past two weeks almost one third of twelfth graders have had five or more drinks in a row. Well that all makes it a good time for parents to talk with their kids about drinking. Here with some help is psychologist Dale Atkins."

The medias double standard on the Bush daughters compared to Al Gores kids was noted by the panel on FNCs Special Report with Brit Hume, though they cited incidents other than the Albert Gore III speeding/reckless driving. The discussion, however, is what prompted me to recall the speeding incident.

Over a shot of the glaring front page covers of the New York Daily News and New York Post, Hume asked on the May 31 program:

"Lets turn to another piece of New York journalism from this day, which is the headlines in the two best-read New York tabloids. This, of course, is the story of Jenna and Barbara Bush, who, as of this moment, stand accused of misdemeanor charges relating to their attempts to get a couple of alcoholic beverages in a restaurant in Texas. This, of course, the second tour around a similar track by Jenna Bush in recent weeks. The media have had a field day with this. Should the media have had a field day with this? Jeff?"

Jeff Birnbaum of Fortune replied, as taken down my MRC analyst Brad Wilmouth: "I dont think so. I covered the Clinton White House for the Wall Street Journal and went, from the very beginning, and we were asked, all the press were asked to lay off Chelsea Clinton, and the same thing was thought of the Gore children, as well. And we did, for the most part, and I think thats admirable. I mean, these are children, they did not run for office, and they do not deserve this kind of scrutiny."

Fred Barnes of the Weekly Standard suggested the media should not touch the lives of offspring unless their name "gets on the police blotter."

That prompted Hume to cryptically recall: "Now, there was an incident, and we didnt report it at the time, and Im not going to go into any detail about it here, involving a member of one of the first families of the land in recent years, who was in serious trouble at school, it involved drugs, it was a serious matter. Nobody reported it. Now, I dont know whether the police were involved, but it certainly involved an alleged offense. Question: Is a different standard applied then than is being applied now?"

Roll Calls Morton Kondracke answered: "Well, Im not exactly sure what the, in one case, and both of these stories, by the way, there were two of Al Gores children did get in trouble, and each case, there was a story. One in the Washingtonian magazine, way down buried."

Hume: "The media didnt pick it up."

Kondracke: "Well, it did not get picked up. Barely touched. And the other was an AP story that actually ran in the Washington Times about one of Al Gores daughters being cited for carrying around an open can of beer."

Birnbaum: "Barely touched."

Kondracke: "Barely touched. Not the same thing."

Fred Barnes: "There were no legal charges."

Hume: "Cited."

Kondracke: "Cited. No, she was cited, and it ran as a story, and it was not blown up, but it was not a second offense, and it was not-"

Birnbaum: "The answer is, there is a double standard."

Kondracke: "Well, its was the Presidents daughter, too."

I dont know about the Daily News, but Im pretty sure the New York Post put Albert Gore III on its cover last August.
Source: Mediaresearch.org
Bush's Kids vs. Gore's Kids
It s safe to say that Jenna Bush is never going to be a member of Mothers Against Drunk Driving. MADD lobbied furiously in the 1980s to raise the legal drinking age from 18 or 19 in most states to 21, making most typical American college students imbibing outlaws for the first three years of college. Now that dump-the-beer dragnet has caught the President's daughter for the second time this year.

The Clintons probably enjoyed seeing the scandal shoe on the other foot as the story was introduced, with a grand national debate over whether it should merit national news attention. NBC went to town on the story, leading off the "Today" show with it and offering a full "Close Up" news report and two interview segments about the problem. ABC's "Good Morning America" also aired an interview segment. Even "Entertainment Tonight" picked up the story. The cable networks really enjoyed it, with a full accounting on CNN's "Talk Back Live" and segments with presidential historians on MSNBC.

You could almost imagine the cable news writers asking, "Is this story any of our business? We'll be asking that question for the next three days straight."

Ironically, the Clintons drew an easier press on these matters than the Bushes. Perhaps because Chelsea entered the White House at the beginning of her teenage years, she was spared any negative coverage, and if she did have an underage drink anywhere, no restaurant owner with a grudge called 911 imploring the cops to book em. In fact, Chelsea's privacy and innocence were zealously guarded by those who felt the young lady deserved to be spared from the media s unforgiving spotlight. When "Saturday Night Live" joked they were "rooting" for Chelsea to get prettier, it was excised from all future reruns.

It is surprising to no one that the media elite are denying a double standard.

Newsweek's Jonathan Alter, the poster child for liberal media bias, declared on MSNBC that any improperly obtained margaritas by Chelsea Clinton would have been a big story. "Any time somebody in the public spotlight, even if they don't intend to be there, has some connection with law enforcement, you can bet that it will be a news story."

Well, that's not true. Exhibit A: Al Gore's kids.

In October 1995, 16-year-old Sarah Gore was caught by Maryland police with an open can of beer. "She broke our rules and she broke the law. She's extremely miserable and unhappy," Tipper Gore told the local Fox affiliate. The Washington Post's coverage focused on Sarah, the star athlete and great student. The networks, broadcast and cable, said absolutely nothing.

In 1996, only the vaguest whispers surfaced that Al Gore III, then just 13, was suspended from school for possession of marijuana. British newspapers sniffed that the Vice President effectively had cried to editors for restraint. Fast forward four years, and Al III has an obvious brush with the law in August of 2000, driving 97 miles per hour in a 55 mph zone in North Carolina. Who was a greater danger to the public? Jenna Bush snatching margaritas with her fake ID, or a 17-year-old kid doing 97 on the highway? But the networks didn't breathe a word of that story in the middle of an election year.

You could even make a retroactive argument for Karenna Gore, since an August 2000 Time magazine profile noted, "By the time she hit the teen years, her spirited nature veered into open rebellion. Karenna lectured her parents on how their rules infringed on her First Amendment rights. She was big on adventuring, climbing out of her window to shimmy down a manhole into the D.C. subway system for after-hours partying." I suspect they were probably not Kool-Aid parties.

How then do the media justify the avalanche of stories on Jenna? As ABC's Elizabeth Vargas felt the need to point out, "it has become an issue because President Bush himself has admitted that he had a drinking problem as a man, quit drinking when he was 40, was in fact arrested for driving under the influence." But no one hit the soapbox to ask if Al Gore III's alleged marijuana handling was learned from Dear Old Dad. No one asked what kind of adventuring influences the Gores instilled in their daughter.

Was the Jenna Bush scandal a credible story? Yes. But no one should pretend that the media have applied a consistent standard based on the involvement of law enforcement. Bush's girls will have to live up to a higher standard. Republicans always do.
Source: Mediaresearch.org
Where's the emergency?
On May 29, Barbara and Jenna Bush and a friend received misdemeanor citations related to underage drinking after Chuy's restaurant manager Mia Lawrence summoned police to the popular South Austin establishment with a call to 911. Jenna Bush alledgedly attempted to purchase a beer using someone else's ID. Her sister Barbara and a friend were cited for possession of alcohol (it's unclear how they happened to obtain their drinks). Just a month earlier Jenna Bush was one of several people cited for underage drinking at a nightclub in downtown Austin.

THE BIG QUESTION: Was the call to police the evening of May 29 in response to underage drinking or was it politically motivated?

THE OUTCRY: It would appear that Chuy's restaurant is the villain in this story.

"You can bet we will not be dining at Chuy's in the future. You had better take a second look at the trouble you are starting when you get involved with politics. Regardless of how you feel about a certain politician, you go about your business in serving the public. To dial a 911 number, reserved for an emergency is outrageous. I am wondering if Mia Lawrence had alcohol at the age of the Bush girls. Most have. If it were my place of business I wouldn't want that kind of publicity." R.W.

"I will never eat at Chuy's for their attack on the Bush girls. [T]hey were wrong but you didn't have to call the media on this experience." S.
"Dear Tex-Mex, If your restaurant is the one who called 911 on Jenna Bush...shame, shame on you. Politics is all it was... and we won't be frequenting your place again." D.S.

"I was wondering which Tex-Mex restaurant will call the police on you if they don't like your father... They should put a sign out 'no shoes, no Republicans' I would like to know so I can call the Health Department if I ever see any Health violations..next time I am in town... Its what the tattle-tail-Tex-Mex deserves." S.P.

"I am shocked that a manager would call the police on any patron who was not causing a disturbance. Patrons would do well to avoid this establishment." C.

"I don't know when I'll be in Austin next but in light of recent political events I do know Chuy's is where I will not be eating." H.J.P.

"I am appalled that they would allow Austin politics to create such an uproar about the Bush twins. I read that Austin is a liberal city, but that is no excuse for the over-zealous reaction of the manager. Shame on her! I have no doubt that Fate will repay her cold heart in kind.

"For eight years the liberal media protected Chelsea Clinton from any and all mention of her stay at Stanford. President Bush has been in office less than six months, and it is obvious that the left-wing press will pry for every detail on his two daughters. I do believe that the American electorate is fair-minded over-all, and I think this will cause sympathy for President and Mrs. Bush." A.B.

"Thankfully I don't live in Austin, Tx but if I did I would make it a point to never eat in any establishment that would try to make political hay out of a relatively minor offense of an underage person trying to buy an alcoholic drink. If the Austin police dept. has to spend tax dollars to send 911 officers to a bar because someone is trying to use a fake ID, then there's way bigger problems in your fair city.

"Did I understand the news reports that the owners and/or manager of Chuy's are big Democratic party hacks??? Wonder where the tape is of Chelsea Clinton dancing on tabletops in some bar during her college days? Bet we'll never see or hear of them." M.K.

911 Use and Abuse

Chuy's did apologize for calling 911. However, I feel I should interject that the fact that someone from Chuy's called 911 instead of a non-emergency police number may seem rash but it isn't unprecedented in Austin. My husband and I have both contacted the local police at various times using 911 for non-emergencies because that is what the Austin police asked us to do. Odd as it was, they asked my husband to call 911 to follow-up on a burglary report from several days earlier. I was told by another police officer to call 911 for a non-emergency situation just a few months ago. They said "911 will route the calls to the correct desk."

Politics and Double Standards

Were the Bush daughters singled out for harrassment because someone at Chuy's didn't like Daddy's politics? Some people have pointed out that the restaurant manager could simply have taken Ms. Bush aside and said, "Listen, we don't want any trouble here. You are underage. We can't serve you alcohol." A recurring theme in many articles and online forums discussing both the Bush incidents has been "all teenagers do it" and "as long as a Democrat was in the White House you didn't hear about the drug and alcohol escapades of the Clinton and Gore teens."
Source: About.com
Chuy's Manager is a Snitch and a Deadbeat
Mia Lawrence a tattletale, she's a deadbeat who just declared bankruptcy, according to federal court records. Lawrence, who earns $3000-a-month running Chuy's in Austin, filed a Chapter 7 petition in early-March, listing $37,500 in debts. As this list of creditors shows, Lawrence, 40, has not paid various credit card bills, a car loan, two lines of credit, and several medical expenses. Included in assets that Lawrence claims are exempt from liquidation are about $9000 in cash, household goods totaling $4000, a Chuy's pension worth $6700, and a $2500 Volvo. Oh, and she values her dogs at an exempt $100.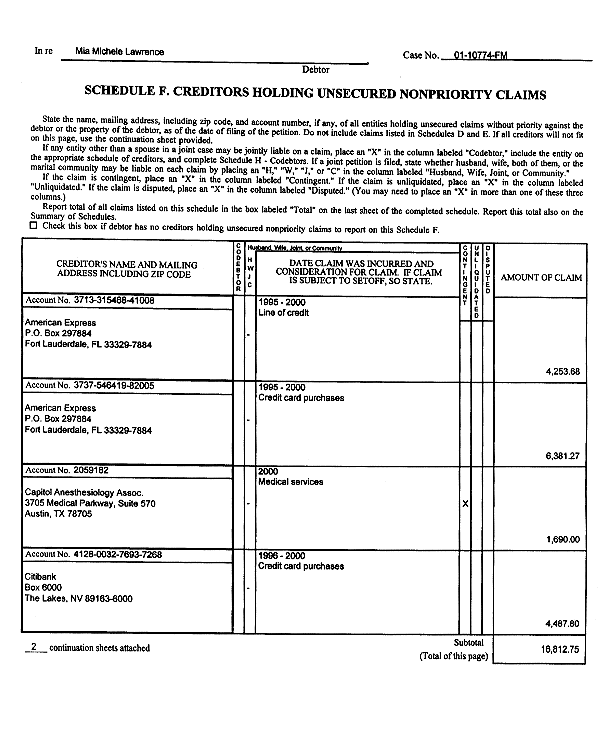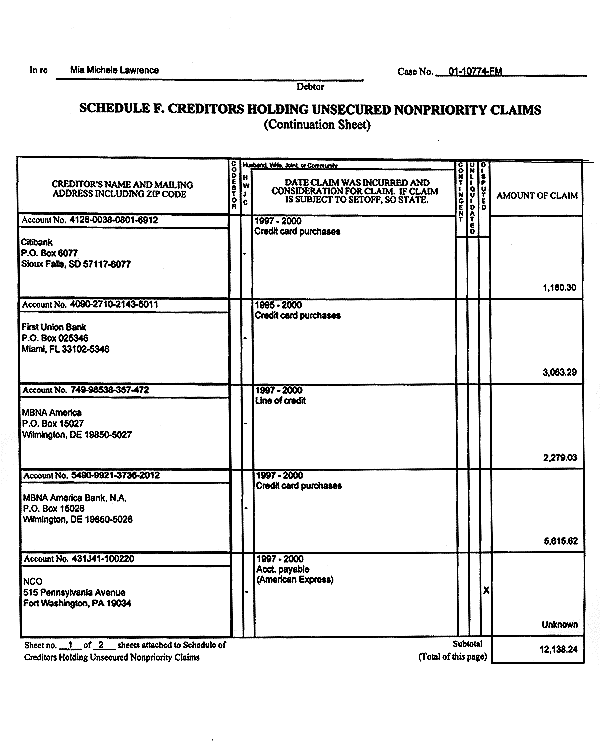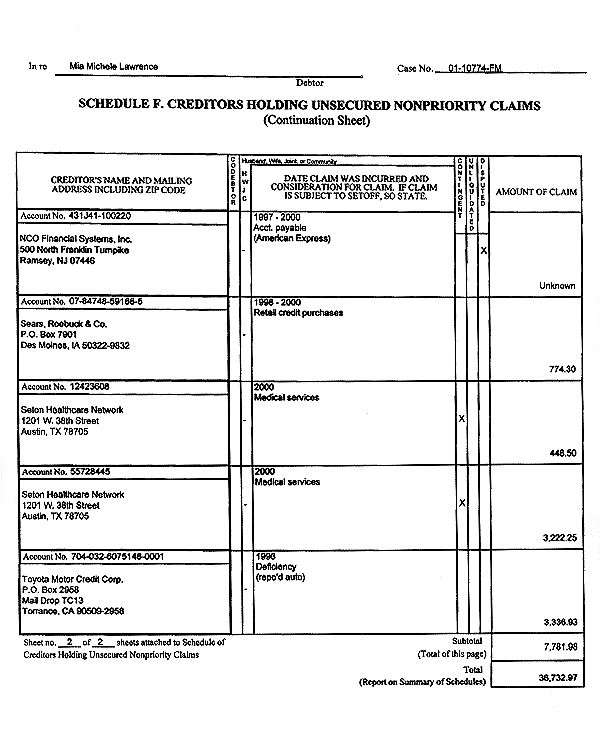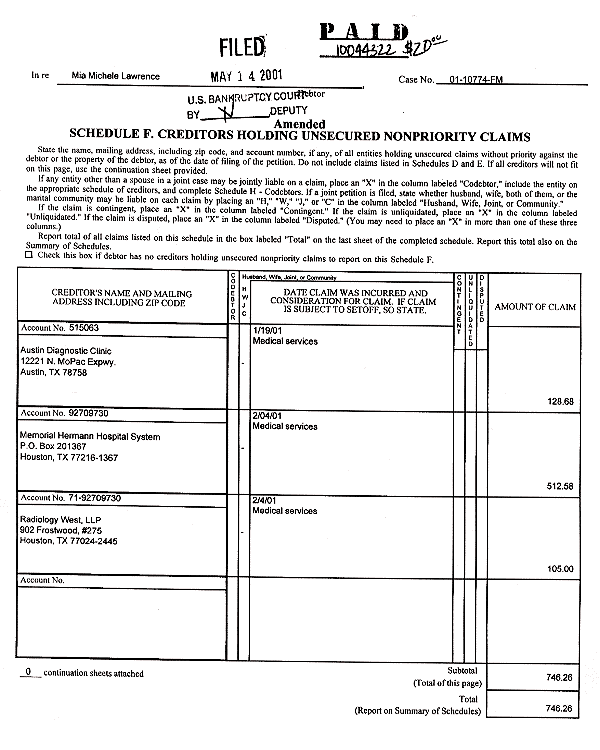 Gore's Son Busted in N.C.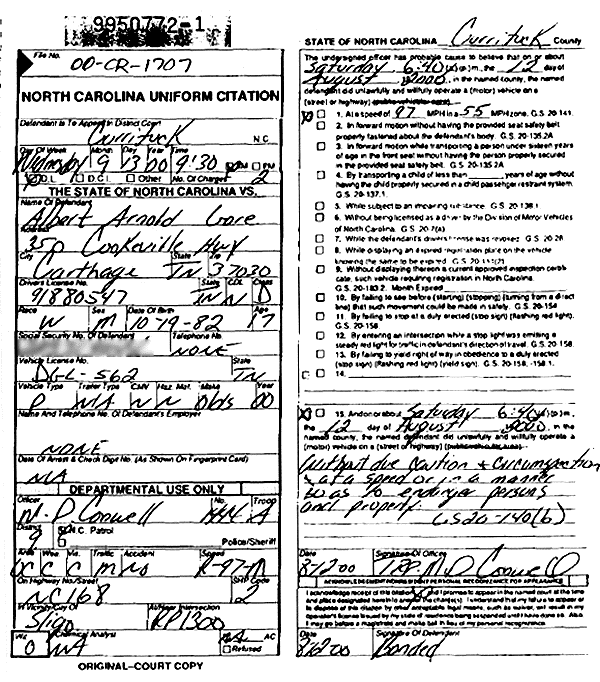 Albert Gore III, 17, was charged with reckless driving Aug. 12 after North Carolina state cops clocked his Oldsmobile at 97 mph in a 55-mph zone, police said.

"Youre going to kill yourself!" Tipper Gore shouted at her son after he was arrested and released on bond in Currituck County, North Carolina.

According to an eyewitness, Mrs. Gore blasted her son for "embarrassing the family" and risking his life in a dare devil drive that stunned even the locals.

"Why are you doing this? Why are you trying to tear apart this family!" Tipper Gore demanded. "And on your fathers convention week?!"

Gore was driving a 2000 Oldsmobile when he was pulled over by the Highway Patrol. He has been charged with "Careless and reckless" driving and a court date has been set for mid-September.

The teen-ager was driving on a long stretch of state highway in a rural area just south of Virginia, said Sgt. Robert Boyes of the North Carolina State Highway Patrol.
Source: NY Post Monday, Aug. 21, 2000 & Drudge Report
Sarah Gore issued a civil citation for underage possession of alcohol
METROPOLITAN TIMES

Metro Briefs

Chevy Chase

Page A11
The 16 year old daughter of Vice President Al Gore was issued a civil citation for underage possession of alcohol friday night outside a party in Montgomery county. Vice presidential spokeswoman Sally Aman said Sarah Gore was issued what amounts to a ticket for holding an open container of beer in a car outside a party in the 4100 block of West Thornapple street.

Montgomery county police Sgt. Wayne Jerman said several juveniles were given civil citations for possession of alcohol at a party in Chevy Chase about 9:30 p.m.

Sgt. Jerman said the matter has been referred to the department's juvenile services division.

The maximum penalty for an underage drinking violation is a $500 fine, he said.

No other coverage was given to the story.
Source: Washington Times
Some Quotes From Time Magazine About Karenna Gore
"...wrestling a pig into the backseat of a friend's car and raffling off votes for which teacher would have to kiss it."

"She is the first to show up at a party."

""Rules and limits are more important than a lot of parents realize," wrote Tipper in her 1987 book, Raising PG Kids in an X-Rated Society. "I learned that simple but important lesson myself with my first child, who was overly demanding and had me wrapped around her finger at two years of age." Tipper encouraged her daughter's independence, letting her draw on the walls and giving Karenna her 1960s polyester and suede hand-me-downs, which the teen preferred to her friends' preppy duds."

"By the time she hit the teen years, her spirited nature veered into open rebellion. Karenna lectured her parents on how their rules infringed on her First Amendment rights."

"She was big on "adventuring," climbing out of her window to shimmy down a manhole into the D.C. subway system for afterhours partying."

"When her friends spray-painted the names of punk bands on the tunnel walls, Karenna, ever the iconoclast, threw up names of country singers like Emmylou Harris and Kenny Rogers."

"One night Karenna was dancing along the tracks and headed off to stomp on the third rail. A friend pulled her back, explaining that she would be electrocuted. "I always think of that," she says. "I could have died, because I really was about to go jump on that.""

"One night Karenna came home refusing to admit she was drunk. Gore had her draw a floor plan of the house; the next morning, as she looked at its wild misproportions, Karenna had to face up to the fact that she had not been sober. Still, this was the same 14-year-old..."
Source: "The daughter also rises" TIME Magazine